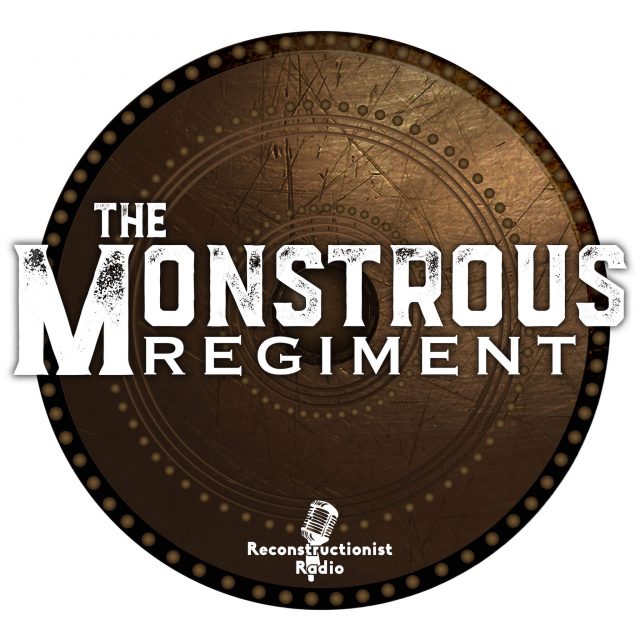 Where Did All These Nazis Come From?
Sarah Robinson
Podcast: The Monstrous Regiment
Topics: Culture, Political Studies
Our special guest this week is linguist Sarah Robinson, whose research into the linguistic and cognitive aspects of Nazi propaganda shines some light on the resurgence of fascism and ethno-nationalism in current political discourse.
Subscribe to the Podcast
iTunes
Google
Spotify
RSS Feed
Transcript
Resources/Recommended Reading:
Arendt, Hannah. The Origins of Totalitarianism. 1951
Black, Jay. 2001. "Semantics and Ethics of Propaganda."
Bytwerk, Randall. (n.d.) German Propaganda Archive. Retrieved from: http://research.calvin.edu/german-propaganda-archive/
De Saussure, Louis. 2005. "Manipulation and cognitive pragmatics: Preliminary Hypothesis." Manipulation and Ideologies in the Twentieth Century. / edited by Louis de Saussure and Peter Schulz. John Benjamins Publishing Company: 113-148
Ellul, Jacques. 1965. "Propaganda: The Formation of Men's Attitudes."
Fillmore, Charles J. 2003. "Double Decker Definitions: The Role of Frames in Meaning Explanations." Sign Language Studies 3 (3): 263-295
Fillmore, Charles J. & Colin Baker. 2010. "A Frames Approach to Semantic Analysis." In Heine & Narrog, eds., The Oxford Handbook of Linguistic Analysis, 313–340. OUP
Herman, Edward, & Chomsky, Noam. 1988. "Manufacturing Consent." New York, NY. Random House, Inc.
Kuran, Timur & Sunstein, Cass R. 2007. Availability Cascades and Risk Regulation. Stanford Law Review, 51(4), 683-768. doi:10.2307/1229439
Lasswell, Harold. 1927. Propaganda Technique in WWI
Sperber, Dan & Dierdre Wilson. 1995. Relevance: Communication and Cognition. 2nd Ed. Oxford, UK; Cambridge, Mass. Blackwell
Stanley, Jason. 2016. How Propaganda Works. Princeton, New Jersey. Princeton University Press
Van Dijk, T. A. 1995. "Discourse Semantics and Ideology." Discourse & Society
Van Dijk, T. A. 1977. Semantic Macro-Structures and Knowledge Frames in Discourse Comprehension. Cognitive processes in comprehension / edited by Marcel Adam Just, Patricia A. Carpenter.
[OTHER USEFUL SOURCES]
Monkey business illusion