 Chapter 3: The Dominion Mandate
Posted on February 24, 2021
Written by David Chilton PART 3: THE GOSPEL OF THE KINGDOM – Chapter 8: The Coming of the Kingdom
Posted on January 4, 2021
Written by David Chilton Minisode #4: Resurrection and the New Week
Posted on July 6, 2020
Written by
The resurrection of Christ was the creation of a new world. As the second Adam, Jesus has established the Kingdom of God through his victory over death and the world being ruled over by sin. Chapter 8: The Hermeneutic of Scripture
Posted on June 16, 2020
Written by Kenneth L Gentry Tyrants Are Not Ministers of God (Interview with Robert E. Fugate)
Posted on May 2, 2022
Written by
Join us for a special episode with our host, Pastor Jason Garwood, as he interviews Dr. Robert Fugate regarding his book Tyrants Are Not Ministers of God: What the Bible Teaches about Civil Disobedience, Romans 13, and Quarantine. Chapter 2: The Spirit Speaks to the Church: Overcome!
Posted on February 24, 2021
Written by David Chilton Chapter 7: The Fiery Cloud
Posted on January 4, 2021
Written by David Chilton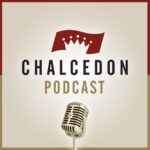 Posted on July 21, 2020
Written by
Welcome to the official podcast of the Chalcedon Foundation hosted by Mark Rushdoony, Martin Selbrede, and Andrea Schwartz.
The Chalcedon Foundation® is a think tank for the self-governing Christian, devoted to the research, publishing, and promotion of Christian Reconstruction. We believe that the Christian faith is applicable to every area of life and thought and that all things are to be "reconstructed" according to God's revealed will in Scripture. The Law: A City on a Hill – Sermon by John Howell
Posted on July 6, 2020
Written by
Text: Matthew 5:13-20 – "I have not come to abolish the Law and the Prophets…but to fulfill the Law."
In this Sermon, John Howell exegeted Matthew 5: 13-20 and applied it to our current state of society. There is a KING and he has called us to uphold his good law so others may find him. The Gospel is a call to arms.