 Lectures on the Politics of God and the Politics of Man 13
Posted on October 20, 2018
Written by
Lectures on the Politics of God and the Politics of Man 13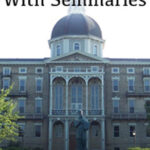 Posted on June 26, 2020
Written by Gary North
So, you want to become a minister. First, however, you need training. You think you should go to seminary. A word of warning: seminaries are staffed by people who learned to write term papers in their teens or early twenties, and who then decided to parlay that peculiar skill into lifetime employment. Seminaries are not staffed by successful ex-pastors; successful pastors remain in the ministry. Seminaries are staffed by baptized college professors who chose to specialize in a field so obscure that no college has a sufficient number of students to make hiring them come close to paying off. Lectures on the Politics of God and the Politics of Man 12
Posted on October 13, 2018
Written by
Lectures on the Politics of God and the Politics of Man 12 The Shadows and the Light of the Law
Posted on September 12, 2017
Written by Regarding The Life Of The Beast
Posted on August 19, 2020
Written by
Did you know that God was the first to kill an animal? For fashion?! As we take dominion over creation, we need to start thinking about the ethical treatment of animals. What does God's word say about it? Join in and listen! 060: Is Abuse Minimized in Our Day or Exaggerated?
Posted on July 25, 2020
Written by
In episode #60, Chalcedon Vice President Martin Selbrede joins Steve and Andrea in discussing the realities of abuse in our culture and the only effective, obedient remedy contained in the Word of God. Lectures on the Politics of God and the Politics of Man 11
Posted on October 6, 2018
Written by
Lectures on the Politics of God and the Politics of Man 11