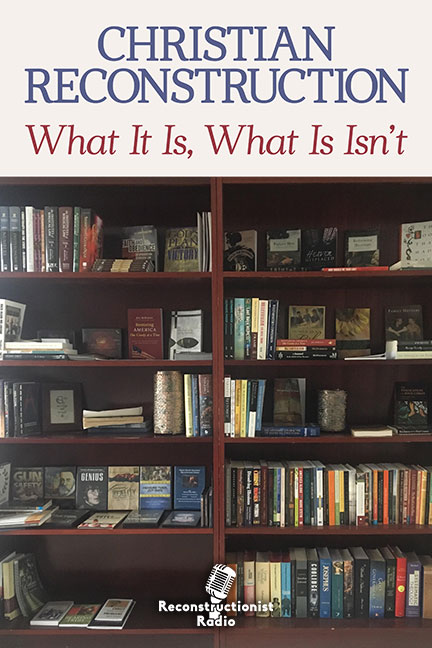 Chapter Text
THE FOUR COVENANTS OF GOD
That at that time ye were without Christ, being aliens from the commonwealth of Israel, and strangers from the covenants of promise, having no hope, and without God in the world.
Ephesians 2:12
We examine our condition in life not simply by our present outward condition, but by the Word of God, the Bible. History is governed by God in terms of His eternal standards. Through Adam, God placed all mankind under a covenant, the dominion covenant.[1] He told Adam that he must subdue the earth (Genesis 1:28).
What is a covenant? God comes before man and "lays down the law" – His law. Man must either conform to God by obeying His law or else be destroyed. As He told Adam, "Eat of the tree of the knowledge of good and evil, and you will die." God deals with men as a king deals with his subjects. His covenant is to prosper us when we obey and curse us when we rebel.
First, God makes a personal covenant with man. A man's eternal destiny depends on how he responds to God's covenant. God also makes institutional covenants with men. There are three of these: family, church, and State. Each has an appropriate oath. Each has laws. Each has penalties for disobedience.
As I wrote in Chapter 5, a biblical covenant has five sections:
An announcement that God is transcendent – the supreme Creator and deliverer of mankind. God is completely superior to and different from men and the world He created. Yet He is also present with it:
The establishment of a hierarch, to enforce God's authority on earth.
A set of ethical rules or laws man must follow in exercising his dominion over the earth. God will judge man by how well he follows these rules.
A list of judgments that will be imposed by God, who blesses man for obedience and curses man for disobedience.
A program of inheritance – a lawful transition that mortal men need in order to extend their dominion over creation.
We examine the laws of God, and we evaluate how well we are following them personally and with our own families. Then we compare the requirements of God's laws with institutions in our own nation: church, State, and family. If we find that society is disobeying God's covenantal principles, then we can conclude that judgment is coming. The curses of God will fall on those who rebel against Him.
These five points are inescapable concepts. We never face the question of "covenant or no covenant." We face the question: "Whose covenant?" It is a choice between God's covenant or man's covenant, a covenant with the Creator or a covenant with Satan. There are no other choices available. There is no covenantal neutrality.
Christians are called by God to exercise dominion in every area of life. God has transferred the ownership of the world to Christians, just as He transferred it to Adam before Adam rebelled. We now are called to take possession of the world in terms of God's covenantal principles, and by means of God's sovereign grace.
Christians must begin immediately to reconstruct their own lives, families, and churches before God's judgment on society begins. We must prove ourselves ready to lead. We must do this by following God now, before His judgment begins. Obedience to God's principles produces leadership. Disobedience to God's principles produces His judgment: man's disinheritance from God's riches, both in history and eternity.
If you don't want to be disinherited, either eternally or on earth, then start obeying God. Jesus said: "If ye love me, keep my commandments" (John 14:15). This is a basic theme of the New Testament:
But whoso keepeth his word, in him verily is the love of God perfected: hereby know we that we are in him (I John 2:5).
Beloved, if our heart condemn us not, then have we confidence toward God. And whatsoever we ask, we receive of him, because we keep his commandments, and do those things that are pleasing in his sight. And this is his commandment, That we should believe on the name of his Son Jesus Christ, and love one another, as he gave us commandment. And he that keepeth his commandments dwelleth in him, and he in him. And hereby we know that he abideth in us, by the Spirit which he hath given us (I John 3:21-24).
For this is the love of God, that we keep his commandments: and his commandments are not grievous (I John 5:3).
Blessed are they that do his commandments, that they may have right to the tree of life, and may enter in through the gates into the city (Revelation 22:14).
The Lord of the Covenant
Jesus Christ is Lord of the covenant. He sits at the right hand of God, governing history. He ascended to this lofty position at His ascension, which occurred forty days after His resurrection from the grave. This was Peter's message on the day of Pentecost:
This Jesus hath God raised up, whereof we all are witnesses. Therefore being by the right hand of God exalted, and having received of the Father the promise of the Holy Ghost, he hath shed forth this, which ye now see and hear. For David is not ascended into the heavens: but he saith himself, The Lord said unto my Lord, Sit thou on my right hand, Until 1 make thy foes thy footstool. Therefore let all the house of Israel know assuredly, that God hath made that same Jesus, whom ye have crucified, both Lord and Christ (Acts 2:32-36).
This eschatological passage is a development of the great promise of Psalm 110:
A Psalm of David. The LORD said unto my Lord, Sit thou at my right hand, until I make thine enemies thy footstool. The LORD shall send the rod of thy strength out of Zion: rule thou in the midst of thine enemies. Thy people shall be willing in the day of thy power, in the beauties of holiness from the womb of the morning: thou hast the dew of thy youth. The LORD hath sworn, and will not repent, Thou art a priest for ever after the order of Melchizedek. The Lord at thy right hand shall strike through kings in the day of his wrath. He shall judge among the heathen, he shall fill the places with the dead bodies; he shall wound the heads over many countries. He shall drink of the brook in the way: therefore shall he lift up the head.
Jesus Christ, the great high priest, is the Lord over history, the King of kings. He alone possesses both offices of high priest and King. This is why there must be separate institutional authorities on earth: priests and magistrates, both lawful rulers, but each with his own office and sphere of legitimate authority. Each is under God and therefore under obligation to proclaim and enforce God's law. The church is not under the State; neither is the State under the church. Both are under God.
Where does Jesus sit? At the right hand of God. Where is this? In heaven. Does this mean that Jesus will not return to earth to sit on an earthly throne in Jerusalem or some other city? Yes. He reigns in history from on high. To leave His throne in heaven, He would have to give up power and authority, unless that heavenly throne were also to come to earth, along with His Father, next to Whom He sits. But this transfer of God's throne of judgment to earth will happen only at the resurrection of the dead and the final judgment.
The Coming of the Kingdom

Much of modern evangelical Christianity believes that Christ's kingdom cannot and will not come until He returns physically to reign over saints and sinners during a thousand-year future period. This is not what He said about the arrival of His kingdom; it is already here: "But if I cast out devils by the Spirit of God, then the kingdom of God is come unto you" (Matthew 12:28). He cast them out, and His kingdom came – not in its historic fullness, but it came judicially (by law).
It is today the God-assigned task of all Christians to work out in history the fullness of His kingdom's principles, to manifest it to all the world. This is the Great Commission (Matthew 28:18-20). The Holy Spirit enables Christ's people to achieve this goal progressively in history, before Jesus comes again to judge the world.
It is no more necessary that Jesus sit on a physical throne in a literal Jerusalem in order for His kingdom on earth to be present in history than it is for Satan physically to sit on a throne in some earthly location – New York City, perhaps? – in order for his kingdom to be present in history. No Christian teaches that Satan's kingdom is unreal in history just because Satan is not here on earth physically. Yet all premillennialists are forced by their eschatology to insist that Christ's earthly Kingdom is not yet real in history, since He is on His throne in heaven. This is totally inconsistent with what they believe about Satan's kingdom.
Empowering by the Holy Spirit
Because Jesus Christ is not physically present with His church in history, the church has greater power. This was the explicit teaching of Christ:
These things have I spoken unto you, being yet present with you. But the Comforter, which is the Holy Ghost, whom the Father will send in my name, he shall teach you all things, and bring all things to your remembrance, whatsoever I have said unto you. Peace I leave with you, my peace I give unto you: not as the world giveth, give I unto you. Let not your heart be troubled, neither let it be afraid (John 14:25-27).
Jesus made it plain that His disciples were better off with Him physically absent from them. "Nevertheless I tell you the truth; It is expedient for you that I go away: for if I go not away, the Comforter will not come unto you; but if I depart, I will send him unto you" (John 16:7).
The Ascension
The modern church has all but ignored the doctrine of Christ's ascension. The modern church does not see the ascension in terms of His definitive triumph in history over Satan and his forces. His blood was shed at Calvary. The bodily ascension of Jesus Christ was the historical event through which His church has been empowered for world dominion by the Holy Spirit. The world will be progressively transformed through the work of the Holy Spirit on the hearts of individuals, and also through the efforts of His people to proclaim biblical law and obey it in history.
Those who deny this – and millions of Christians do deny it – are simply unimpressed by the power of the Holy Spirit and the efficacy of biblical law. They believe that Satan, acting through the hearts and actions of covenantally rebellious people, possesses far more power in history than God exercises through His Spirit-empowered people. Christians today seem more impressed with the power of humanism than with the transforming power of the Holy Spirit. In this, they share a fundamental principle with the humanists.
Nevertheless, critics publicly insist that because Christian Reconstructionists proclaim the heart-transforming, world-transforming power of the Holy Spirit in history, Reconstructionists are therefore humanistic. Most incredible of all, there are Christians who actually believe this preposterous accusation.
[1] Gary North, The Dominion Covenant: Genesis (2nd ed.; Tyler, Texas: Institute for Christian Economics, 1987).