 Safety, Security, and State-Worship
Posted on November 8, 2016
Written by
What does the Bible say about the role of government? Are there any specific provisions in the Law of God about safety, security, and law-enforcement? What is the proper role of civil government in the law of God? Is it to provide safety and security? How should the laws be enforced in a Christian society?
The answers to these questions would take many more episodes, but we want to look at one particular aspect of them: social safety and security, and the role of civil government.
Recommended Reading:
Joel McDurmon, 1 Samuel: In the Midst of Your Enemies (coming soon to the American Vision Library!) Christianity and Government: Jesus is King
Posted on June 28, 2020
Written by Lesson 27: National Defense – How To Get Freedom Back
Posted on June 11, 2020
Written by Lesson 26: National Defense – How Freedom Was Lost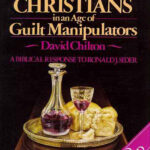 Posted on April 4, 2020
Written by David Chilton
See Sider Squirm. If Pope John Paul II is really interested in dealing with heretical "liberation theologians" in his church, then he ought to issue this third edition of Productive Christians as a Papal encyclical.
Protestants have trouble with their own liberation theologians. Some of them are Marxists in the Lamb's clothing, while others are merely Fabian socialists in the Lamb's clothing. Some of them just aren't willing to say…yet. (Tactics, you understand.) Ron Sider belongs to the third group.
Sider's first edition of Rich Christians in an Age of Hunger created a minor sensation in conservative Protestant circles. It was the cutting edge of a radical shift of political and economic opinion in the neo-evangelical world, especially on college and seminary campuses-a shift to the far left. The book received no response until 1981, when the first edition of Productive Christians blew away Sider's claims that he was simply applying the Bible to economics. Sider has never recovered intellectually, as Chilton's third edition demonstrates.
Sider's desperate attempts to "cover his flanks" in the second edition of Rich Christians are exposed by this book as a last ditch effort. Sider waffles, Sider squirms, Sider drops whole sections of the original book, Sider changes a few words and quietly shifts controversial sections (exposed in Chilton's earlier editions) to other chapters, but still nothing works. There is no place left for Sider to hide. Chilton makes it clear: Sider understand neither the Bible nor economics when it comes to his conclusions about profits, taxes, foreign aid, and Western guilt for the Third World poverty.
To put it bluntly, this book definitely destroys what little was left of Sider's position. The Sider phenomenon, intellectually speaking, is finished. This book is its gravestone. Sovereignty Of God vs. Sovereignty Of State
Posted on August 22, 2017
Written by
Sovereignty Of God vs. Sovereignty Of State Lesson 25: National Defense In A Free Society
Posted on June 11, 2020
Written by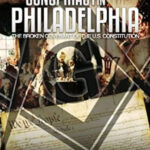 Posted on April 4, 2020
Written by Gary North
On May 25th, 1787, a group of 55 men gathered for a closed meeting in Philadelphia. Officially, it was being convened to discuss alterations to the then constitution of the United States of America: the Articles of Confederation. Some state legislatures had authorized their representatives to attend the meeting only on this basis, explicitly prohibiting them from considering a new constitution. To make certain that the general public did not find out about the nature of this conspiracy, the convention members swore an oath not to discuss any proceedings with the public…for the rest of their lives. The only first-hand accounts of the proceedings were published several years later after the death of the last survivor, James Madison, in 1836. The press was forbidden to attend. The meetings were held on the second floor of the building, so that would-be eavesdroppers could not hear anything. The new constitution would become the law of the land whenever nine state conventions ratified it. This was in explicit violation of the Articles, which required a unanimous vote for amendments. Thus did a group of men launch a coup-d'etat. This coup established a new national covenant in 1788, a covenant stripped of the Articles' invocation of God, "The Great Governor of the World," with only the old country's name transferred for public relations' sake: the United States of America. Today, we would call this a trademark violation. But it worked. In this new book from NiceneCouncil.com Conspiracy in Philadelphia: The Broken Covenant of the U.S. Constitution Dr. Gary North, in nearly five hundred pages with thousands of footnotes rehearses the story of the deeply theological origins and implications of that coup against the God of the Bible and His people, the Church of the Lord Jesus!